In Croatia, up to present, 4275 plant species have been identified, the total being 5347 with subspecies. By the number of species Croatia ranks seventh in Europe, and it comes third by the number of species per unit area of the state, just behind Slovenia and Albania.
In this botanical richness, about 6% of the species are endemic, including a large number of steno-endemic sorts of very limited distribution, and about 11% of the species are endangered. On the other hand, Dalmatia has witnessed through history a large number of plant species and varieties be introduced, they are used in agriculture and forestry, and some now form an integral part of the landscape and vegetation cover of Dalmatia. So today it is almost unthinkable that plants like olive tree, vine, Alpine pine, palm tree or cypresses, species that are emblematic of Dalmatia, are not of Dalmatian origin.
The cultivation and use of aromatic and culinary herbs, honey-rich, ornamental and edible plants in Dalmatia certainly goes back to the earliest history of civilization in this region. From the original forms of wild plants numerous agricultural, yarn and especially vegetable, aromatic, spicy and herbs plants have been selected.
Overwhelming karstification, aridity, very shallow pedological substrate, extreme heat and dryness, lack of rainfall and salinity of coastal areas, all make for the most important limiting factors of the overall agriculture of Dalmatia, including the production of aromatic, spicy, herbal, honey, ornamental and edible plants. However, it should be noted that these factors are far less restrictive for many of these species.
Official regionalization of aromatic, spicy, herbal, honey, ornamental and edible plants in Dalmatia was not carried out, but as with other plants, two separate districts could be establish.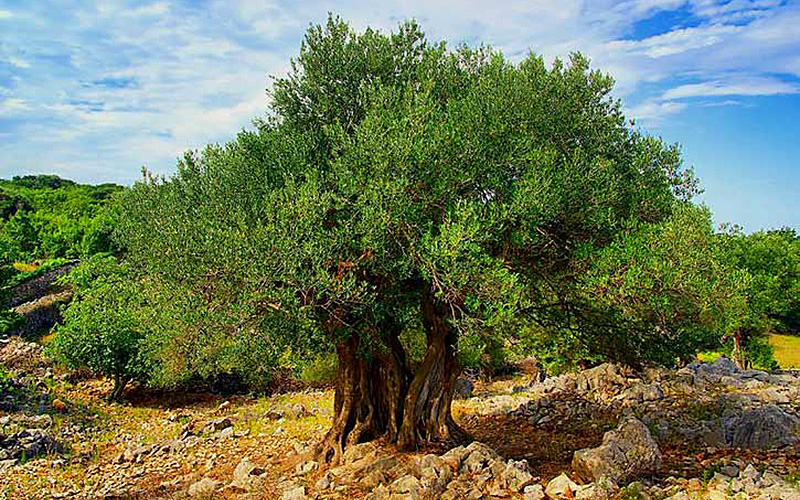 They include:
The Dalmatian coast and islands, characterized by a summer drought and mild winters belonging to the Mediterranean climatic region. As high mountain peaks of the Dinaric Mountains rise close to the shore of the Adriatic Sea (Velebit, Kozjak, Mosor, Biokovo, Rilić) the seaboard is very narrow. In this region there are very good conditions for the production of aromatic, spicy, herbal, honey, ornamental and wild edible plants because of Mediterranean climate and protection.
The Dalmatian Hinterland, the "Dalmatian Zagora" – in a broader sense. This is an area of extremely varied landscape which includes flood depression, karst fields, karst plateaus and hills, and finally the high peaks of the Dinaric Mountains, so there is an alternation of air from Mediterranean, to continental and cold, even snowy mountain climate. In the lower parts of this area sub-Mediterranean climate is present and even conditions for mass production of some aromatic, spicy, herbal, honey, ornamental and edible plants exist, primarily in the fertile large karst fields, part of Ravni Kotari, Vrana, Sinj field, Imotski field and Vrgora field, Neretva Valley and Konavle. These potentials are hardly used and in this group of plants wild population is still used in a very small extent. For the cultivation of ornamental plants there are almost ideal conditions in the area of Dubrovnik-Neretva County, particularly in the Parish of Dubrovnik, climatic jewel, according to the manager of a botanical garden in Vienna, R. Wettstein in 1906. Therefore it is not surprising that the station for southern cultures was established just in the Parish of Dubrovnik, in Cibaca, and that the entire area of the Parish was well known for commercial production of flowers.