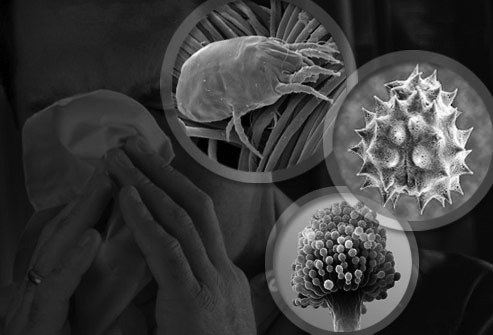 Allergies are among the most common health problems of the modern age. Because of our lifestyle and ever increasing air pollution, and due to a frequent use of additives and preservatives in food and other products intended for consumer use,
the modern man is surrounded by an increasing number of different potential allergens. Respiratory allergies are the most common, followed by allergy to various food ingredients (food products, additives, preservatives, food colorings), being most commonly manifested by cutaneous symptoms, as nettle rush or allergic dermatitis and intestinal symptoms such as diarrhea.
Allergy is in simplest terms, an immune system disorder. It is defined as an excessive reaction of the body to an otherwise harmless substance.
A person suffering from certain allergies actually has an altered immunity and the body is too sensitive to certain substances from the environment, which are otherwise met daily. These substances are called antigens or allergens. Allergies were first identified and treated in the early 20th century by Viennese physician Clemens von Pirque, who noticed in some of his patients specific reactions to certain stimuli such as dust, pollen and food. In people who are not allergic, the defense system remembers allergens as harmless substances and it does not take any action when encountering such substances. In allergic individuals, defense system reacts violently as if it were an infection, thus resulting with allergy symptoms.
There are various allergens. Some airborne, so we call them – inhalant allergens (grass pollen and flowers), and some we can get from food – food allergens (eggs, milk, peanuts). In addition, allergies may develop due to the sun, various animals (dogs and cats), mites, fungi, some drugs (penicillin), preservatives, additives, pesticides and so forth. 
Allergies can occur as skin allergies, allergies to medicines and vaccines, insect sting, food allergies, allergic airway disease. Of all the allergies, the most common ones are skin allergies. The symptoms of allergies depend on the way in which the allergens enter the body. If we breathe (inhalant allergens), symptoms occur in the nose, eyes, sinuses or throat. Here we have allergic rhinitis as the most common one. Allergic rhinitis is an inflammatory disease of the nasal mucosa, which results in nasal congestion, increased secretion, sneezing and itching of the nose. Because of the cold-like symptoms, it is important to learn to distinguish allergies from colds. The common cold is often followed by a temperature and symptoms disappear much quicker than is the case with allergies. The symptoms of allergies are reduced only if the therapy starts, and they depend on the period of exposure to allergens. Food allergy manifests itself in digestive system problems, as well as skin rashes, nausea and vomiting. Allergy symptoms can range from mild to severe and life threatening.